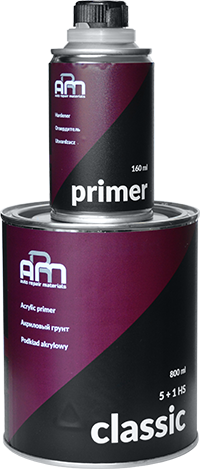 Acrylic primer – CLASSIC
art. 102-0800
2K HS acrylic primer-filler «Classic» for the repair of body parts of vehicles. Applicable for alignment/isolate surface, filling the pores and scratches. Compatible with any acrylic products. Provides excellent adhesion and easy to sand.
Primer + Hardener
0.8L+0.16L

Acrylic primer "wet-on-wet"
– START
art. 101-0900
Universal acrylic primer-filler «START» for the repair of body parts using the «wet on wet». Primer effectively isolates the repair surface for further coating of paint, with intermediate drying is not required. The dried primer can be sanded both «on dry» and «on wet».
Primer + Hardener
0.9L+0.15L
Contact
ARM Group Ltd.,
Munchen, Dachauer Str., 511